h
White flower blooming on
Danube
River
h
---I hope that my message through my music from my heart arrives in Transylvania where my beloveds are! Kanako Shuku---@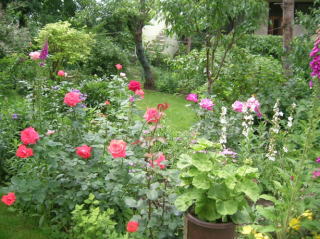 In Budapest I met a lady whose name was Margit. She was 73 years old and lived in the home next door to us. On the first day I met her she gave me a potted plant of basil. Her large garden was a secret garden. Many flowers were blossoming there. Many birds were coming to play there. Families of parents and children of hedgehogs were living there. Many trees of fruits (apricot, peach, plum and so on) were having fruits on the branches. Many people came here to meet Margit.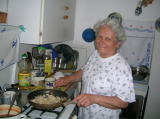 She told many things in Hungarian to me when I had just moved to Hungary and knew nothing about this country. Although I couldnft speak the Hungarian language, I could understand everything what she was speaking somehow. In spite of that I couldnft understand her words, we were always roaring with laughter. Everyday I passed through the big hole in the fence across her secret garden and my house and went into the house of Margit.



Margit taught me how to cook Hungarian dishes. She taught Hungarian embroidery. She picked flowers in the garden and put them on the entrance of our house. She hanged a bag in which there were her homemade sweets on the entrance door. She took me to a public market. She took our couple to concerts in the town. She took us to her native town and we picked beautiful flowers of Linden there. She took us to Matthias Church and we listened to the music of Haydn's Masse and Mozartfs Requiem there.
When my friends came to Budapest from Japan, she cooked dishes and sweets almost like for her guests. Every day we spent the time together.

After two years and a half since our first meeting, I was reminded that life is never eternal. B

One year after I had come to Budapest, I met Mr. Kovacs, professor of flute in the Liszt Music Academy. I was amazed with the high level playing skills of his students. The girls of around eighteen years old won prizes of international competitions after another.


Mr. Kovacs wasnft teaching me anything except for ggKanako! Blow phew!h Sometimes he had me have only blown phew without having an instrument. Nothing else. However, I turned to recognize that this practice was very efficient for improving my skill of playing the flute in the future.

One day, after many practices of one piece I played it very well. I was expected to have his great praise. He said gKanako, excellent! You did a great job. However; James Galway is playing better than you in his CD. Please try againc



One day, he asked me gKanako, for what do you play the flute?h and I answered gFor giving an impression to peopleh. Master said gNo, we play the flute for connecting people with God,h At that time I realized that I had met a wonderful teacher. I turned to become loving to play the flute more and more. I found the teaching method of being patient with warm watching till the time when students grow by themselves.
I was 51 years old.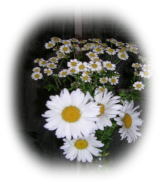 The mass for Margit was held at Matthias Church. I broke off by this mass. For two weeks from the time when she had left I had been playing the flute while weeping all the time. I couldnft understand what the Priest was saying but I understood that Margit had gone to the place where God is. The gentle look of the Priest saved me. The mother of Margit died when she was five years old. Margit finally met her mother and she was rejoicing over meeting her mother in paradise. I concluded resolving my grief by thinking that way, Playing the flute filled the time I would have spent with Margit. According to old tradition, the sound of flute can reach even those who died,,.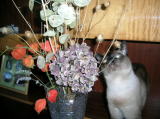 I was having an interest in Transylvania, for example in Dracula and Frankenstein. Somehow, I believe that everyone goes to Transylvania after death. Even when Koharu, my beloved cockatiel, had died, I believed that if I went to Transylvania I would meet him. Yet, I had not been aware that Transylvania was a territory of Hungary before World War I till recently. It was always my dream to go to Transylvania to meet 400 years old witches. Then one day the cat, called Tsima which was certainly the reincarnation of the witch, came and stayed in our house for ten days and she returned to its owner and died one month later. Now I can meet Koharu, Margit and Tsima only if I go to Transylvania.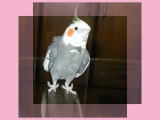 I was 53 years old.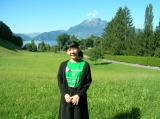 I went to the flute seminar of James Galway, whom I like the most, in Switzerland. My heart was beating so hard as it almost bursted by extreme tension and excitement. There were a lot of young participants playing the flute easily with the sound of Galway which I could not have mastered even in 40 years, The thing was really shocking. After the seminar I decided that I didnft try to play with the sound of Galway but I played the flute in the way of my style from my heart.
Then, the flute which had been like a mischievous boy defing me began obeying my will slightlyc The flute was coming closer and we were gradually unifyingc I knew what had been wrong!
I was 54 years old.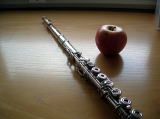 It was my dream that I would record my flute play in CD or music tape and give the recording to Margit when I would have to say goodbye to her.
Yet, Margit has said goodbye earlier than me. The turn was reversed. However; I decided to realize my dream.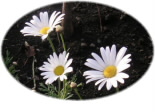 Margaret, we know well the name as Margaret of which flowers are white. Margit is Hungarian name of Margaret. She loved flowers most. I made up my mind that I sent my heart through the sound of flute for Margit. Let me bury my heart and my music in her secret flower garden.
And I named the CD " White flowers blooming on Danube River "

I hope that my message through my music from my heart arrives in Transylvania where there are Koharu, Margit and Tsuima.






Kanako CD program & demonstration